Registration to the authentication app (PC, smartphone) from the authentication seed display page at first login
After 2022/4/18, when you connect to Multifactor Authentication CAS with a Nagoya University ID that does not have an authentication seed set You will be asked for your ID and password, and then prompted to register your authentication seed with the authentication application as follows
If you are a first-time user of multifactor CAS, please visit the multifactor CAS certification test page( https://auth-mfa-check.icts.nagoya-u.ac.jp/phpCasClient/ ) or any other system that uses multifactor CAS certification and follow the steps below to register.
Multi-factor authentication CAS first time login authentication seed display page
When you enter your Nagoya University ID and password into the Multi-factor Authentication CAS for the first time, the Authentication seed display page will appear when you log in for the first time.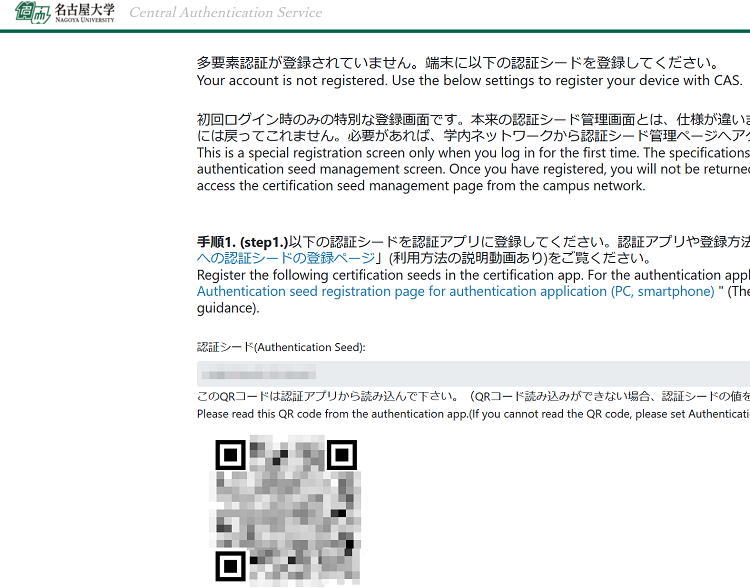 Prepare the authentication application and register the authentication seed in QR code or alphanumeric format.

The link to the page explaining how to register the certification seed for each certification application is at the bottom of this page.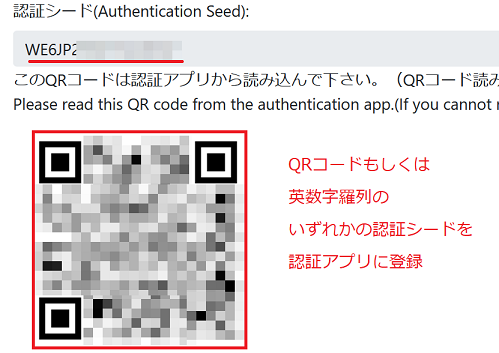 Enter the 6-digit numeric authentication code displayed on the authentication application and press the "code check" button.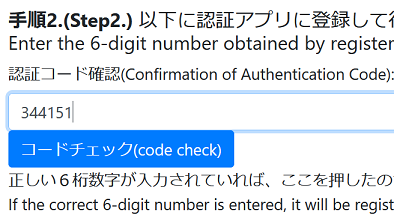 If the authentication application generates the correct authentication code, registration and authentication are complete.
If the registration fails, you will get a pop-up window as follows.so please solve the problem and register again.

Common causes: device running the authentication app is not on time, failure to copy/paste alphanumeric sequence of authentication seeds.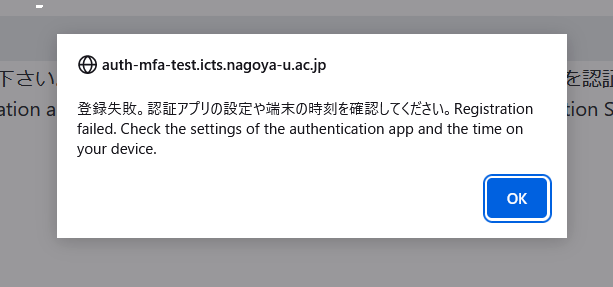 How to register a certification seed to each certification application
Click the link below to play the video.
Below is a link to the WEB page.
You can use any Authentication Application if the application accepts the OATH-TOTP standard (time based) that updates in 30 second intervals. Please use the application that you find most convenient.
Test multi-factor authentication with registered authentication seeds
we have prepared a multi-factor authentication CAS certification test page, so please follow the instructions on the page for testing the use of multi-factor authentication CAS.
Q&A about Multi-factor Authentication CAS
If you need help, please see the following QA
If the above Q&A does not solve your problem, please contact the IT Help Desk (Inquiries via Web).