Advanced Networking Division
Advanced network service as a platform for research and education -
Outline of Research Division
Advanced Networking Division touches not only planning, management, and operation of Nagoya university Integrated Communication Environment (NICE), but also activities about several R&D for information infrastructure technologies and network services which backups next-generation campus information network. We also donate for graduate school education as a part of Information Network Systems Laboratory in Department of Information Engineering, Graduate School of Information Science.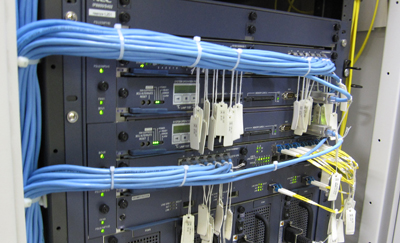 Research Topics of Division
Development of Next-Generation Network
NICE4
To achieve high availability and high operability, we modulate network lines and switches, or develop original management system.

Campus wide wireless LAN
Expanding wireless LAN in campus which gives both safety and availability by utilizing Meidai ID.

Providing safety network access
We provide several systems to improve security such as firewall, intrusion detecting system (IDS), virus check, spam check, SecureNICE.
Development of Network Service Technology
Trust building support technique
We develop automated trust proofing technique between persons and machines in open network such as the Internet.

Language grid
We research about techniques to realize several multilingual application by connecting multilingual information systems on the Internet each other.
Development of Green Computing Platform Technology
Low-power computer architecture
We research about power consumption reduction technique by cogitating computer organization.

Virtual server management algorithm
To reduce baseline power consumption which does not depends on server workload, we research about virtual server management algorithm.

Dynamic network management via OpenFlow
By utilizing OpenFlow which can reconfigure network organization in software operation level, we explore to reduce power consumption of the network.