System Outline
The Information Media Studies System provides a learning environment for classes and self-study using computers by installing approximately about 1,100 personal computers as information media terminals.
These terminals installed separately in each Satellite laboratory of nine departments as well as the Center Laboratory, and used for professional education using computers including media literacy education.
In addition, there are computers available at the Institute of Liberal Arts and Sciences, and Nagoya University Library.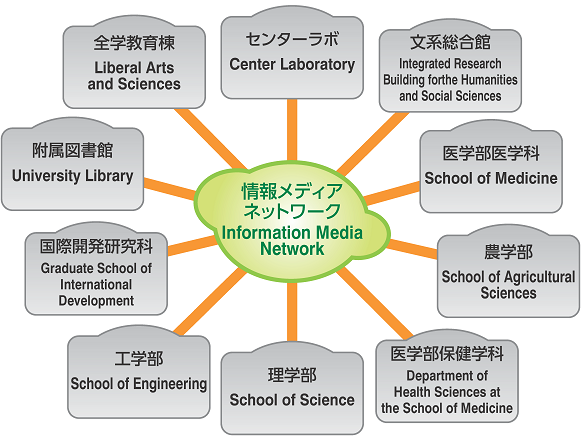 Center Laboratory and Satellite Laboratories
The Center Laboratory and Satellite Laboratories are dispersed throughout the campus, but each is a base for information media education, linked by the Information Media Studies System.
The systems of these laboratories are connected by a dedicated network for high-speed communication.
Faculty members and students can conduct classes and self-study at the satellite laboratories of their departments.
The locations of the terminals and the system configuration are shown in the table below.
Laboratory
Building
Room
Number of terminals
Audio output/input
    
OS
Bootstrap
A
Center Laboratory
Liberal Arts and Sciences,Room A
Room A11
65
    
Headphone jack
Microphone jack
USB-A
Windows10
Local Boot
B
Integrated Research Building for the Humanities and Social Sciences
Integrated Research Building for the Humanities and Social Sciences,3F
Room 304
30
Integrated Research Building for the Humanities and Social Sciences,4F
Room 406
30
C
Liberal Arts and Sciences
Liberal Arts and Sciences,2F
Sub-Laboratory,A
104
    
USB-A
Sub-Laboratory,B
28
D
University Library
Central Library,4F
4th floor Satellite lab
30
    
Headphone jack
Microphone jack
USB-A
E
School of Agricultural Sciences
School of Agricultural Sciences,Building B, 3F
Room B327
55
Room B309
46
F
School of Engineering
Engineering and Science Building,3F
ES031
65
    
USB-A
ES032
50
G
IB Building, North Wing, 10F
IB102
120
    
Headphone jack
Microphone jack
USB-A
H
School of Medicine
Medical Research Building Annex
Room 201
64
Network Boot
I
Graduate School of International Development
Graduate School of International Development Building
Room 712
25
Headphone jack
Microphone jack
USB-A
(Headset is installed)
Local Boot
J
School of Science
School of Science Building A,2F
Room 250
54
    
Headphone-out/microphone-in combo jack
USB-A
USB-C
macOS X
K
Department of Health Sciences at the School of Medicine
School of Health Sciences Main Building,2F
Information Media Room(1)
52
    
Headphone jack
Microphone jack
USB-A
Windows10
Information Media Room(2)
6
L
Liberal Arts and Sciences Ace Labo
Liberal Arts and Sciences Main Building, South Wing, 2F
Room S276
41
M
Liberal Arts and Sciences CALL
Liberal Arts and Sciences Main Building,2F
CALL1
54
    
Headphone jack
Microphone jack
USB-A
(Headset is installed)
CALL2
40
CALL3
40
CALL4
40
N
University Library Learning Commons
Central Library,2F
Seminar Room A
25
    
Headphone jack
Microphone jack
USB-A
Seminar Room B
13
Multipurpose Learning Area
10
Group Learning Area
6
Service Desk
2
O
University Library Writing Support Area
Central Library,2F
Writing Support Area
12
Terminal specification
 
Laboratory
Terminal
CPU
Memory
Display
Manufacture
Model Number
A
Center Laboratory
Fujitsu
LIFEBOOK A748/V
Core i5
4GB
15.6 inches
B
Integrated Research
Building for the Humanities and Social Sciences
ESPRIMO D588/V
Core i3
19.5 inches
C
Liberal Arts and Sciences
17 inches
D
University Library
19.5 inches
E
School of Agricultural Sciences
17 inches
F
School of Engineering
8GB
G
LIFEBOOK A748/V
Core i5
15.6 inches
H
School of Medicine
ESPRIMO D588/V
Core i3
4GB
17 inches
I
Graduate School
of International Development
19.5 inches
J
School of Science
Apple
iMac
(Date First Available:April,2019)
Core i5
8GB
21.5 inches
K
Department of Health Sciences
at the School of Medicine
Fujitsu
ESPRIMO D588/V
Core i3
4GB
19.5 inches
L
Liberal Arts and Sciences Ace Labo
LIFEBOOK A748/V
Core i5
8GB
15.6 inches
M
Liberal Arts and Sciences CALL
ESPRIMO D588/V
Core i3
4GB
17 inches
N
University Library Learning Commons
19.5 inches
O
University Library Writing Support Area